---


---
Show time
8:00PM

Tickets - $25
In the Greenbank area tickets are available at:
---
Blue Heron Books, 62 Brock St West,in Uxbridge, 905-852-4282

---
P O E Design, 146 Queen St, in Port Perry, 905-985-0060
---
Tickets are also available by calling 905-985-8351.
---
The Greenbank Folk Music Society
---
---
News
Welcome to the 2015-2016 season.
About us
The Greenbank Folk Music Society is a volunteer, non-profit group that has been dedicated to bringing the best Canadian roots and traditional folk and blues music to small town Ontario since 1993.

The season consists of monthly concerts October to May, held in the Greenbank Centennial Hall. The Hall is located 30 minutes north of Whitby on Highway 12. (See map) The location is small, only 95 tickets available per concert and usually sold out, so calling ahead for tickets is important. Over the years the Society has gained a solid reputation and the support of both the general public and performing musicians.

Past performances have included Ron Sexsmith, Carlos Del Junco, Blackie & the Rodeo Kings, Russel de Carle, Don Ross & Brooke Miller, David, Francey, Penny Lang, Ken Hamm, Ron Hynes, James Keelaghan, Rick Fines, Club Django, Chris Whiteley & Diana Braithwaite, Jimmy Bowskill, Oh Susanna, Stephen Fearing, Bob Snider, Fred J. Eaglesmith, The Whiteley Brothers, Kevin Breit, Sultans of String, The Marigolds, Nathan Rogers, Michael Jerome Brown, Jenny Whitely, Jeremy Fisher, Andrew Collins, Rob Lutes, The Claytones and a whole lot more!
---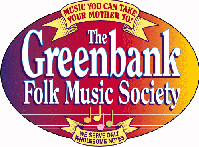 For information and bookings:
Mogens Galberg (905) 985-8351
email: mgalberg@gmail.com
(Please note that tickets cannot be ordered by email.)

The Greenbank Folk Music Society
c/o Mogens Galberg
1179 Cragg Road
Greenbank, Ontario
L0C 1B0

Past seasons: